Check out "Not So Different," a brand new song written specially to benefit Autism Speaks and their research, support for communities dealing with autism, and outreach programs!
50% of ALL PROCEEDS will DIRECTLY BENEFIT AUTISM SPEAKS!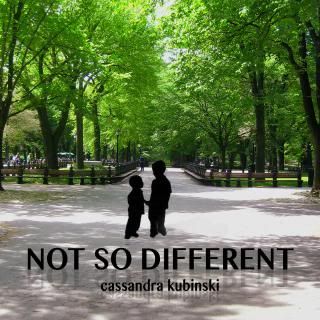 Download NOT SO DIFFERENT on iTunes
Download NOT SO DIFFERENT on CD Baby
So please download the song…
Post it, tweet it, share it…
Email it to everyone you know…especially folks you know who may be dealing with autism in their families…
I was invited to write a song for Autism Speaks by my friend Vanessa, whose two children are on the autism spectrum. After hearing about what she went through in the process of diagnosis, finding support, and what the children go through on a daily basis, interacting with other children and often being alienated because of their different perspective and behaviors, I sat down at the piano and tried to put her words, her emotions, and her story into a song. My hope is that it helps, heals, and inspires millions of people. There are over 2 million people living with autism in the US alone, and many more worldwide. It only takes a few minutes to download a song, re-post the link with your recommendation that others do the same, or tweet the song to those you know who deal with Autism. Let's see what a huge difference we can make together!
The song will premiere live at the North Central NJ Autism Speaks walk this Sunday, October 20.
For information about Autism Speaks and their events, Walks, research, outreach: www.AutismSpeaks.org

in
What To Do When Your IndieGoGo campaign is less than a week from completion, and it would take a whole community to reach the goal within that time? WRITE A SONG!
It's just what I do
 So, here it is. . . live from my sunny office in autumnal Saratoga Springs. I even got dressed up for you.  Watch this dork-tastic video, then share it everywhere you can.
What's that, you say? You'd rather not see me embarrass myself, and would prefer to just contribute to the campaign and get free music, yoga lessons, demo singing, and more? Well OK then!
And, come to the Completion Celebration Sept 25!
No matter how close we come to the goal or how far we surpass it, we're going to celebrate in classy theatre-district style on Wednesday, September 25 at Paris-inspired champagne bar FLUTE. Stop by and see us!
Wednesday, September 25
7-10 PM
Flute Bar (205 West 54th St between Bway and 7th Ave)
No Cover!
Fall into the toasty, acoustic sounds of Eleanor Dubinsky (7-8 pm), Markeisha Ensley (8- 8:45 pm), and moi (8:45- 10pm)
The leaves might be starting to fall, but we're buzzing with back-to-school energy. The "Avalanche" video is slated for release in October, I'm heading to London and Paris for my 1st visit and some performances Oct 19, and I'm excited to announce a collaboration with the wonderful people at Autism Speaks on a new song supporting their organization and upcoming Autism Speaks walks.
Thank you as always for your support, and see you soon!
in